WIDC
WIDC is an important global event of GDIO. As the grand annual event of GDIO, WIDC has been successfully held for three sessions with great achievements in China since 2016. World Industrial Design Conference (WIDC) is co-founded by China Industrial Design Association (CIDA) and design organizations from more than 40 countries and regions around the world. It is a platform for gathering global design innovation resources, innovation cooperation between countries and regions, cultivating innovative talents and delivering innovative ideas and resources to less developed regions. With profound international influence and appeal, WIDC is an important force to boost the development of the world's design industry.

2020 World Industrial Design Conference (WIDC2020) was grandly opened on November 25, in Yantai, China. With the theme of "Intelligent Design · Road to the Future", WIDC2020 aims to promote the integration of human wisdom, artificial intelligence and intelligent manufacturing to link user big data and the entire industry chain, and to transform human beings' continuous pursuit of a better life into mass customization design and services.
Li Yong, Director General of the United Nations Industrial Development Organization, Pan Yunhe, Academician of the Chinese Academy of Engineering, and Chairmen from global design industry organizations sent their congratulatory videos for the opening of the conference. WIDC2020, handing with Global Design Industry Organization (GDIO) and design associations, companies, institutions, universities and innovation leaders from more than 40 countries and regions around the world, has presented a feast of innovation!
The conference lasted for 5 days and held various activities including WIDC2020 Technology + Design Summit, China Excellent Industrial Design Award (CEID) Exhibition, Leading Entrepreneurs' Innovation Roadshow, "Belt And Road" Syria Art Exhibition. With 100 global sessions and over 1000 matchmaking activities, this conference showed wholly its influence in the design filed worldwide.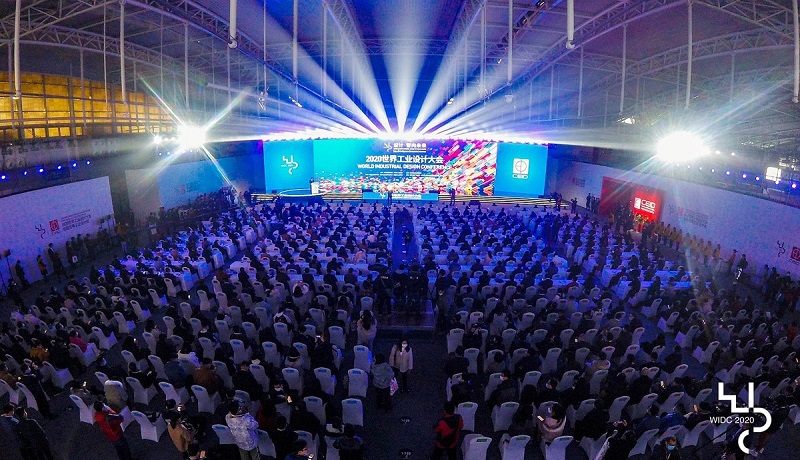 2019 World Industrial Design Conference was grandly held in Yantai, Shandong Province from October 18 to 20, with the theme of "Design Sparks Innovation Engine". More than 2,000 delegates from over 40 countries and regions were all represented, including representatives from government agencies and organizations, experts and scholars, entrepreneurs, designers, and other innovation leaders. Taking the design industry as the core, effective discussions were held to ensure information sharing, exchange and cooperation on replacing old growth drivers with new ones and promoting high-quality development.


2018 World Industrial Design Conference (WIDC2018) was held on April 21-22 in Mengqi Town of Designers, Liangzhu, Zhejiang. With the theme of "Design • Ecology", the Conference brought together thousands of representatives of experts, scholars, entrepreneurs and government leaders from all over the world to engage in exchange and cooperation on the integrated innovation of human culture, environment and industries.
During the conference, organized dozens of design industry cooperation fairs; at the opening ceremony, announced the design poverty alleviation initiative, launched the Open University for Design, signed a number of major cooperation projects, held the TIA design award award ceremony; at the same time, organized the design industry Achievement release, National Council of Design Education Branch of China Industrial Design Association, International Design Education Summit Forum, International User Experience Design Forum, Preparatory Meeting of National Council of User Experience Industry Branch of China Industrial Design Association, etc. In addition, "Design · Technology", " "Design, Entrepreneurship", "Design as Source, Enabling Ecology", etc. Nearly 20 professional forums were held concurrently with the conference.


In December 2016, the first World Industrial Design Conference was grandly held, and more than a thousand design elites from around the world went to Hangzhou for a grand celebration. During the conference, more than 10 innovation forums and nearly 30 multilateral talks on the design industry were held, covering the design industry development summit, design development round table summit, national high-end dialogue on the development of the industrial design industry, and design education, design industry, service design forums, etc. The conference released the Global Design Action Program "Liangzhu Design Declaration", advocating to jointly create a future-oriented design ecology, foster an open and shared design culture, pursue inclusive and coordinated design development, guide sustainable development of design capital, and help design talents with an international perspective. At the same time, the conference released the "2016 China Industrial Design Industry Development Report" (Green Paper). The Green Paper comprehensively shows the development of the industrial design industry in recent years. During the meeting, international design organizations, national design associations, design agencies and design institutions signed a package of cooperation memoranda.